Es war der perfekte Start in ein Wochenende, das trüber nicht hätte sein können. Und das meine ich ausschließlich wetterbedingt. Die vier Mumford and Sons Boys spielten am Freitag, den 3. Mai 2019 ihr einziges Österreich-Konzert ihrer über 60 Dates umfassenden "Delta Tour 2019" in der ausverkauften Wiener Stadthalle. Die britischen Folk-Rocker bescherten uns dabei einen Abend voller Wärme, Glücksgefühle und emotionaler Momente, die man stark mit ihrer Musik verbindet – zumindest ging es uns an dem Abend so.
Nach der Support Show der australischen Indierocker Gang Of Youths kamen wir pünktlich zum M&S Opener in die Halle. Das warme Licht, die Stimmung der Fans und dieses ganz besondere Gefühl, die nur die Brit-Rocker auslösen, waren von der ersten Sekunde, vom ersten Ton, von der ersten bis zur letzten Reihe da! Eröffnungsnummer der Mumford and Sons Show war "Guiding Light" aus ihrer aktuellen Platte "Delta".
Von da an ging es für uns down the memory lane: "Little Lion Man" war bereits die zweite Nummer der Show und unsere Teenie-Herzchen hüpften im Takt zu "But it was not your fault but mine. And it was your heart on the line. I really fucked it up this time. Didn't I, my dear?" Aus dem Jahr 2010 katapultierte uns die Band in die "Holland Road" ihres 2012er Albums "Babel", wir waren im "Tompkins Square Park" ("Wilder Mind", 2015) und ließen uns zurück als "Lover Of The Light".
Apropos Light: Lichttechnik über der Center Stage (auf der die Band übrigens bei dieser Tour zum ersten Mal stand) gab es genügend. So imposant aber auch die Installationen waren, kam tatsächlich wenig wirklich über den Bühnenrand rüber. Trotzdem war die Menge permanent in ein wunderschönes warmes Licht getaucht und konnte gefühlt jede Textzeile auswendig mitsingen. Dieses besondere Gefühl, das bei M&S Konzertn bzw. ihrer Musik rüberkommt, entsteht erst so richtig, wenn kollektiv mitgesungen wird. Gefühlt erinnerten wir uns alle gemeinsam an ähnliche Zeiten aus unserer Teenager-Zeit voller gescheiterter Beziehungen, langer Radfahrten über Landstraßen und voller Wartezeiten auf den Schulbus – immer mit Mumford and Sons Mukke im Ohr.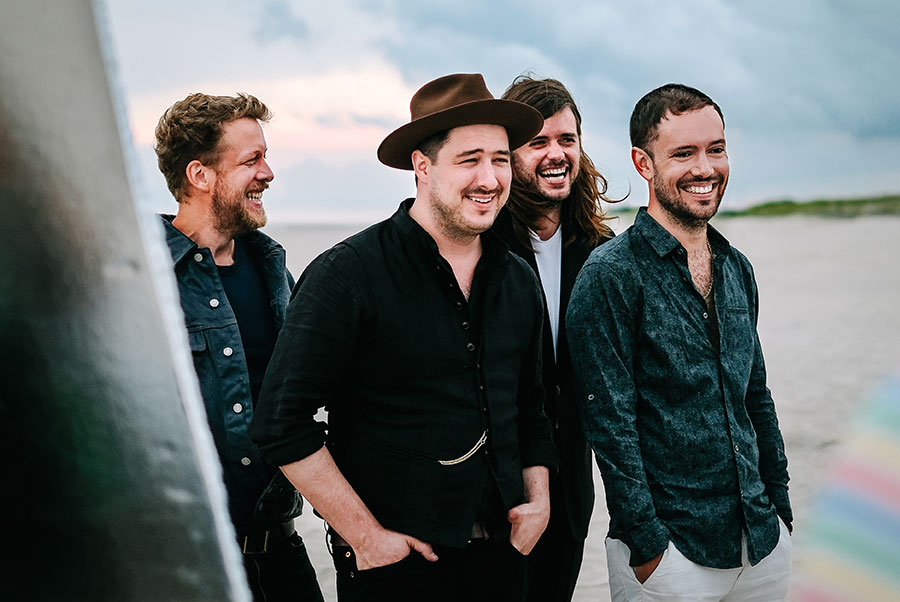 Nach einem Bad in der Menge, das Sänger Marcus Mumford nahm und durch die Massen lief und sang, nach einer ordentlichen Zugabe mit ganzen sieben Songs (inkl. "White Blank Page" – meiner absoluten Lieblingsnummer der Band), nach unzähligen Hits und nach nicht weniger vielen Gänsehaut-Melancholie-Momenten ging die Show nach knapp zwei Stunden zu Ende. Fazit: Bei Mumford and Sons Konzerten geht es um so viel mehr: Hier verschmelzen Livemusik, die unfassbar markante stimme von Marcus, Erinnerungen, ausgelassene Stimmung und zugleich schwermütige Momente in ein fabelhaftes Konzerterlebnis. Bitte ganz bald wieder!
SETLIST Konzert 3. Mai 2019 – Wiener Stadthalle:
Guiding Light
Little Lion Man
Holland Road
The Cave
Beloved
Lover of the Light
Tompkins Square Park
Believe
Ditmas
Slip Away
Picture You
Darkness Visible
The Wolf
Encore:
Cold Arms
White Blank Page
Forever
Blood (The Middle East Cover)
Awake My Soul
I Will Wait
Delta
Text Michael Haller
Bild Header Alistair Taylor-Young
Bild Artikel Gavin Batty