Mit "Little Lion Man" gelang den Brit-Rockern vor fast zehn Jahren der internationale Durchbruch und der Zugang zu unseren kleinen Pseudo-Indie-Teenieherzchen. Waren wir nicht alle auf einmal super krasse Indie-Fans und wussten nicht mal, was dieses Genre überhaupt ist? Egal, es war schön und man konnte den Refrain im Schlaf auswendig. So auch wir und darum freut es uns direkt noch mehr, dass die vier Boys am 3. Mai 2019 in die Wiener Stadthalle kommen und diesen Sound gleich mitbringen.
Nun, ein Jahrzehnt später sind nicht nur wir erwachsener geworden, sondern auch die Musik der Mumford and Sons. Dazwischen gab es zwei weitere Erfolgsalben mit Dauer-Hits, wie dem anschließenden "Winter Winds", "I Will Wait" oder "Believe" und gleichzeitig regnete es Grammy und Brit Awards für die Band. 2018 kamen Marcus Mumford (Gesang, Gitarre, Schlagzeug), "Country" Winston Marshall (Banjo, Dobro), Ben Lovett (Keyboard, Akkordeon) und Ted Dwane (Kontrabass) mit ihrer aktuellen und vierten Platte namens "Delta" zurück, dabei sind sie ihrem unvergleichlichen M&S-Sound treu geblieben, der immer mal wieder ruhiger, wilder, rockiger und gleichzeitig balladesker wird – genau so, wie wir es seit Jahren lieben.
Es wird nicht nur die bisher größte, sondern auch die außergewöhnlichste Tour seit der Bandgründung vor zehn Jahren, denn Mumford & Sons performen dieses Mal auf einer Bühne in der Raummitte. Die 60 Stopps umfassende Tour startete in Dublin und brachte die Band über Kanada und die USA und wird sie noch bis nach Australien und Neuseeland führen, bevor sie im Frühjahr dann in Europa und auch in Wien eintreffen. Am 16. November 2018 veröffentlichte die Band ihr aktuelles Album, gemeinsam mit Produzent Paul Epworth (Adele, Florence + the Machine). Die Platte klingt wieder etwas experimenteller, womit es die Band nicht nur schafft, an die Intimität und den Enthusiasmus der ersten beiden Alben anzuknüpfen, sondern auch den Rahmen und die Stadien-Dynamiken von "Wilder Mind" fortzuführen. Wie das ganze dann live klingt, könnt ihr am 3. Mai 2019 in der Wiener Stadthalle selbst erleben.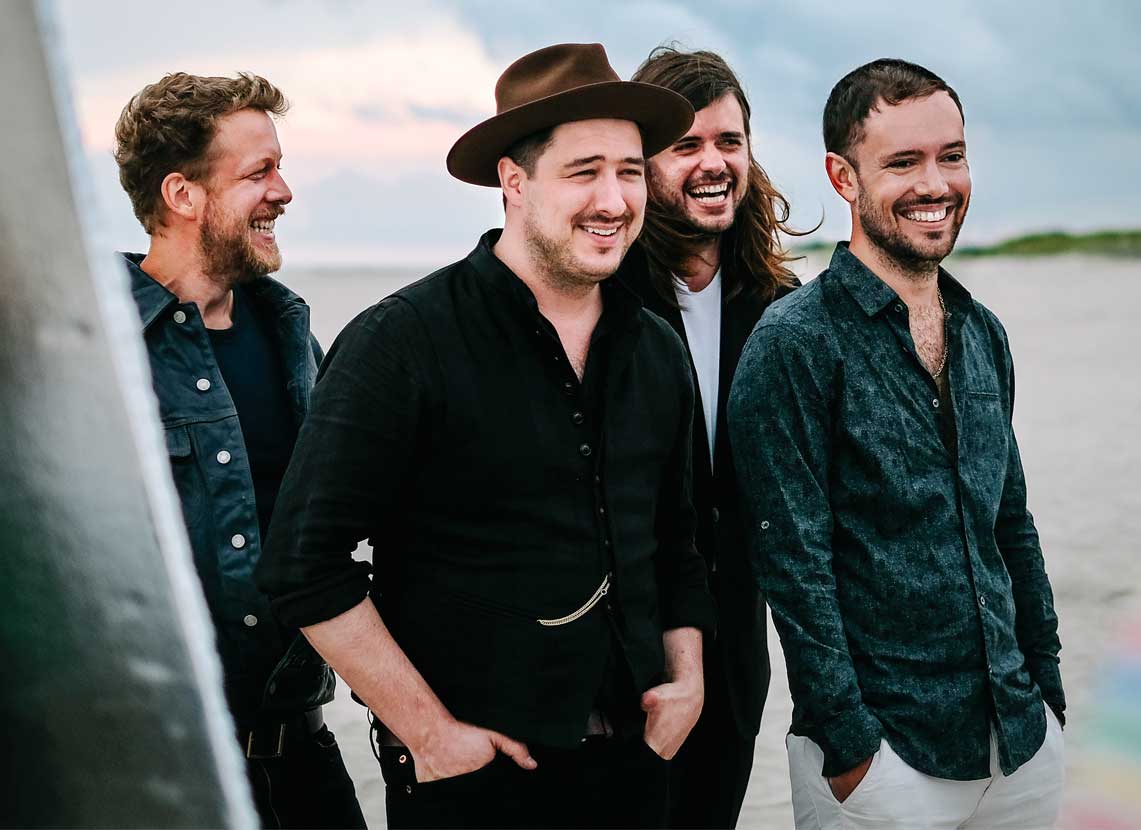 Text Michael Haller
Bild Header Alistair Taylor-Young
Bild Artikel Gavin Batty