Auf YouTube gibt es ja bekanntlich so gut wie alles: Schlechte Pop-Musik, süße Katzen, shopping-haulende Influencer und niesende Pandas. Warum sollte es also nicht auch Jungs geben, die sich schminken? Das dachte sich wohl auch der selbsterkorene Boy Beauty Vlogger Manny Mua, der auf seinem gleichnamigen YouTube-Kanal mehrmals wöchentlich Make-Up- und Beauty-Videos hochlädt.
Mit großem Erfolg: Mehr als 2.600.000 Abonnenten interessieren sich für ihn und seine Videos, sogar Persönlichkeiten wie Colleen Ballinger, besser bekannt als die schrille "Miranda Sings", oder Jeffree Star stehen mit ihm vor der Kamera. Kurz: Manny ist mit dem, was er tut, ziemlich erfolgreich. So erfolgreich, dass er nun als erstes Männermodell für den Make-Up-Riesen Maybelline die Werbetrommel rühren darf.
Das scheint christlichen Blogger Matt Welsh irgendwie zu stören und er nahm sich diese Kampagne zum Anlass, einen Blogeintrag zu verfassen, indem er fordert:
"Dads, We Can't Expect Our Sons to Become Real Men If We Don't Teach Them How!"
Er meint, man müsse sich jetzt darauf gefasst machen, dass vielleicht bald auch Tampons von Jungen beworben werden. Er scheint sich sicher zu sein, dass es die Aufgabe eines guten Vaters ist, seinen Sohn zu formen und zu einem richtigen Mann zu machen:
"Children have a will and an identity of their own, after all, and there's only so much we can do to shape it."
Dass das totaler Mist ist und sich auch Jungen schminken dürfen, wenn sie Lust drauf haben, möchten wir an dieser Stelle gar nicht diskutieren. Wir möchten euch viel lieber die Antwort von Mannys Vater nicht vorenthalten. Er schickte seinem Sohn eine Nachricht und bat ihn, diese auf seinen sozialen Netzwerken zu teilen. Die Nachricht ist an Matt Welsh gerichtet und er erklärt ihm, dass er immer für seinen Sohn Manny da war und auch immer für ihn da sein wird. Er sei stolz auf seinen Sohn und vermutet, dass Welsh einfach niemanden aus der LGBT Community kenne und daher gar nicht wisse, dass was für ehrliche und warmherzige Menschen das seien. Die ganze Nachricht findet ihr hier: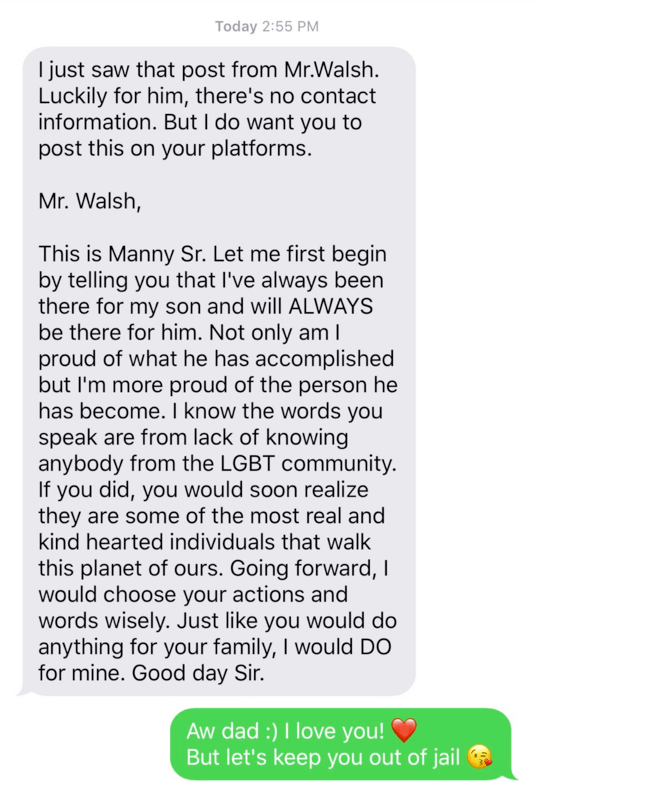 Wir finden die Reaktion von Mannys Vater großartig: Genauso muss solchen Kommentaren begegnet werden, mit aufrichtiger Freundlichkeit und Intelligenz.