Immer wieder sonntags ruft das Wiener Villa Vida Café die Gays der Stadt in seine einladenden und neu renovierten Räumlichkeiten, um zweimal am Tag der beeindruckenden Drag Queen Performances beizuwohnen. Und alle pilgern hin. Was früher also die Sonntagsmesse war, ist heute unser Drag Vormittag voller Queerness. HOLY SHIT! Was für ein Sonntag Morgen!
Das Villa Vida Café ist ein Teil der Türkis Rosa Lila Villa, bei vielen nur als "Villa" bekannt und stellt seit 35 Jahren einer der Grundpfeiler der LGBTIQA+ Community in Wien dar. Ursprünglich durch eine Hausbesetzung 1982 entstanden, steht das Haus mit der farbenfrohen lila-rosa Fassade heute für eine Alternative zu gesellschaftlichen Normen. Sie ist Heimat für Wohngemeinschaften, Selbsthilfe- und Supportgruppen, sowie für das neue Villa Vida Café. Und genau dort findet derzeit der allererste Queens Brunch mit seinen Drag Shows statt.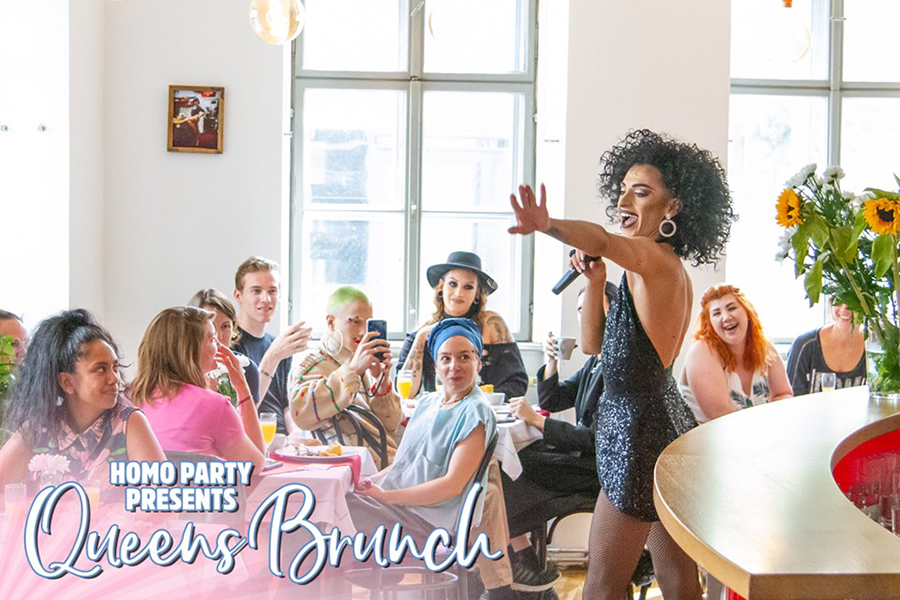 Meta Morkid, gemeinsam mit der verführerischen Catrice Liberty und der feurigen Caithy Black. Die drei Queens zaubern eine Drag Show voller Tanz und Gesang zu den größten Pop-Hymnen unserer Zeit hin, die ihr während leckerem Essen so schnell nicht vergessen werdet. Aufgetischt werden einerseits Performances und Entertainment-Programm zum Mit-tanzen und Lachen, es gibt lustige Spiele und einen Drag-Aufklärungskurs für Newbies, andererseits Leckereien vom All-You-Can-Eat Buffet (auch vegane Gerichte) und "bottomless" Mimosas, die bei unserem Besuch nie leer wurden. (YAAAS!)
Stephane Magloire ist Gründer des Queens Brunch und holte das Event nach Wien. Vor etwa zwei Jahren zog der New Yorker in die österreichische Hauptstadt und engagiert sich seitdem aktiv für die Wiener LGBTQIA+ Community. Show, Musik, Theater und Film sind die beruflichen Hintergründe von Stephane, der, wie er uns im Gespräch erzählte, bereits mit Ryan Murphy im Writers Room zusammen an American Horror Story und Glee geschrieben hat.
"Moving to Vienna, I recognized very quickly there were a lot of events and parties in the evening for queer people but nothing representing us in the daytime, other than once a year at Vienna Pride. Two years later, on the 50th Year Anniversary since the Stonewall Riots… Queens Brunch is here! The only way I can describe the experience is like going to Gay Church… A group of strangers come together in a safe space, we break bread and drink together, we laugh and cry together, we sing and cheer together, and at the end, something magical happens… We leave as family. I strongly believe this event is what Vienna needs to provide a voice and daytime representation for the LGBTQIA+ community." So Stephane über den Queens Brunch in Wien.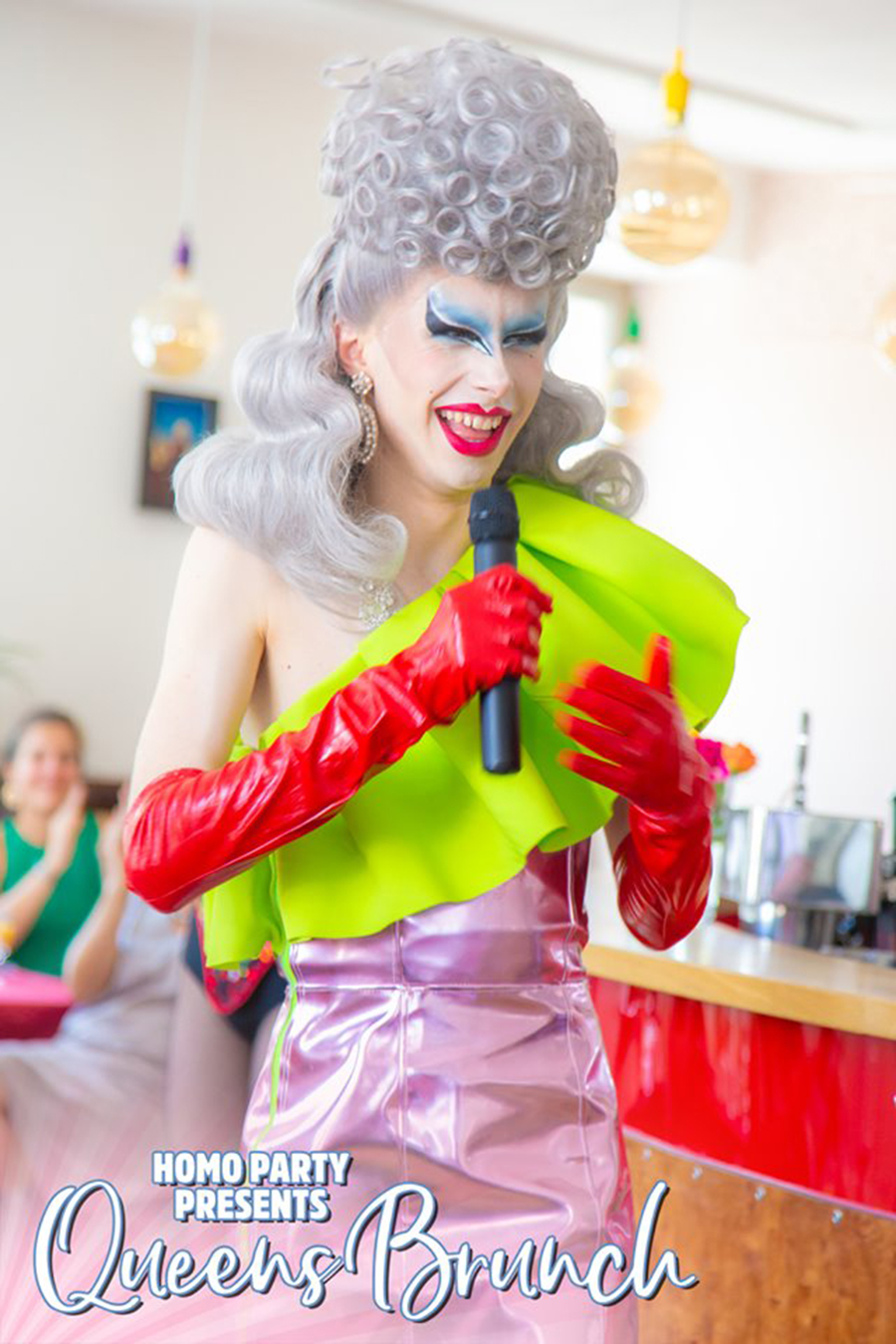 In Zeiten von RuPaul's Drag Race ist Drag auf keinen Fall mehr aus der LGBTQIA+ Community wegzudenken und längst im Mainstream angekommen. Den Ursprung hatte Drag übrigens um 1900 herum, was aus dem britischen Slang kommt und effeminierte Homosexuelle in weiblicher Kleidung beschrieb.
Ok gut, reicht auch wieder mit der Geschichtsstunde.
Ihr habt auch mal Lust, bei dem Queens Brunch dabei zu sein?
Reservierungen und Tickets für nen schmalen Taler gibt's HIER.
Zum Facebook-Event HIER entlang!
Die Drag Shows im Villa Vida Café gibt's immer sonntags noch bis Ende September. Aber pssst, wir haben exklusiv erfahren, dass die Queens nach einer einmonatigen Pause im Herbst wiederkommen und der Queens Brunch zurückkehren wird. Also freut euch schon mal, Sonntag vormittags in die Gay Church zu pilgern, um bei Performances von Wiens besten Drag Queens live dabei zu sein.
Text Michael Haller
Fotos / Quelle Stephane Magloire / Queens Brunch