Man gibt sich die Hand, klopft anderen aufmunternd auf die Schulter, hält Händchen, tätschelt den Kopf, hält sich an jemandem fest – Berührungen sind alltäglich, gehören zum Miteinander dazu. Im Beruf, in der Freizeit oder beim Sex – ohne sich auf irgendeine Art und Weise anzufassen kaum möglich. Doch was, wenn diese Berührungen ungewollt stattfinden? Wenn eine andere Person sich über ein "Nein!" hinwegsetzt? Diese Berührungen vergisst man nicht so schnell, sie brennen sich ins Gedächtnis ein: Sexuelle Gewalt.
Emma Krenzer, 19 Jahre alt, studiert an der Nebraska Wesleyan University und hat sich mit diesem Thema auf künstlerischer Ebene auseinandergesetzt: "I made this project largely for myself to actually visualize the lasting impact that touch can have on an individual", verrät sie BuzzFeed News.
Für den Kunstunterreicht fotografierte sie eine Freundin nackt, der Kopf ist auf dem Bild nicht zu sehen. Sie druckte das Bild in Lebensgröße aus und bemalte es in verschiedenen Farben mit ihren Finger. Auf einer Art Legende mit der Überschrift "Touches from" erklärt sie, welche Farbe für welche Person(en) steht. So sieht man beispielsweise in Gelb die Berührungen ihrer Freunde oder in Blau den Handabdruck ihres Vaters. Die Farbe Rot, die bekanntlich u. a. für Gefahr und Zorn steht, zeigt die Berührungen von "someone I told no", von einer Person, die sich über Emmas "Nein!" hinwegsetzte und sie im Schritt, an den Brüsten und am Hals berührte.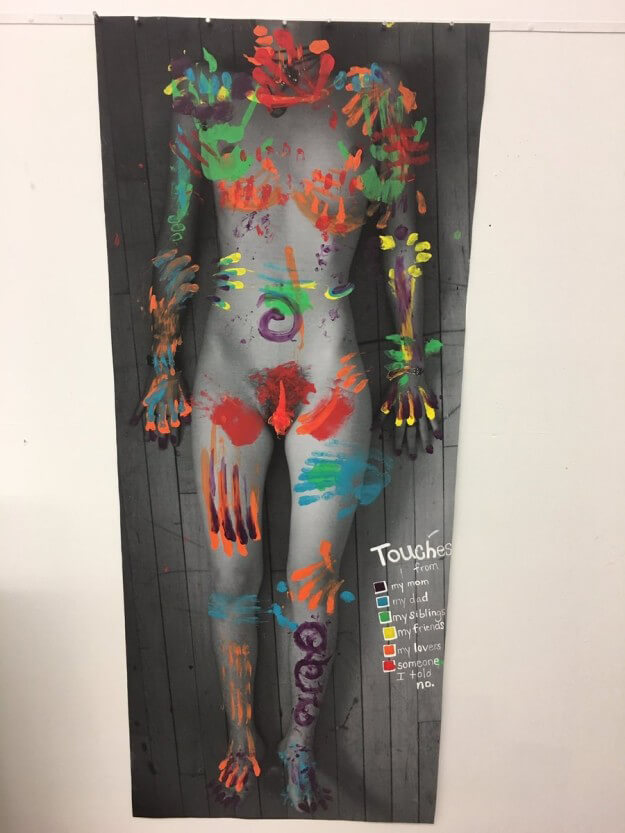 "I thought about what was true for myself, and also, what I perceived to be commonly true for people in general, when I mapped out these touches", verrät sie BuzzFeed News zu ihrer Arbeit, welche sie auf Twitter teilte. Ihr Kunstwerk ging schnell viral, wurde (bis heute) 135.544 Mal retweeted. Emma selbst scheint von all den Reaktionen überwältigt. Auf ihrem Instagram Account schreibt sie, dass die letzten Tage wohl die verrücktesten in ihrem Leben waren: "I never imagined I would get the chance to effect so many people through my art. It is an absolute dream come true, and although it has been stressful, I could not be more grateful."




Wir sagen: Großen Respekt an Emma, ihren Mut und ihre Aktion!